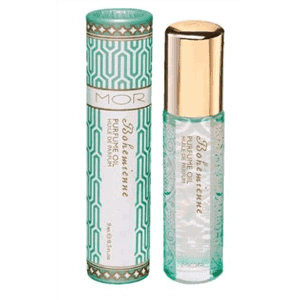 MOR | Little Luxuries | Perfume Oil | Bohemienne
$24.99
or 6 weekly interest-free payments from $4.16 with
what's this?
Description
Bountiful with Rosehip, Vitamin E, Sweet Almond Oil and flourishing with fragrance for silky-soft skin and perfectly perfumed pulse points.
9ml / 0.03 fl.oz
Key product features…
Blended with oils of Sweet Almond, Grape Seed, Avocado, Sesame and Sunflower Seed, Rosehip and Vitamin E for silky-soft skin and perfectly perfumed pulse points.

Features a roll on ball for convenient application.
Fragrances notes…
Experience wanderlust. Transcend into a utopia of gypsy enchantment where bohemian bouquets of White Jasmine, Strawberry and Orange charm and bewitch the spirit.
Available in Belladonna, Lychee Flower, Snow Gardenia, Marshmallow and Peony Blossom.
About MOR
At MOR, we are creators of beautifully crafted bath, body and lifestyle luxuries for those seeking indulgent escapes from the everyday.
Embarking on our sensory journey in 2001 from Australia's culture capital Melbourne, we continue to awaken senses worldwide with collections inspired by tales of ancient civilizations, bygone eras, travel and art.
Perfumed with signature scents and formulated with selected natural ingredients, each collection evokes a multi-sensory experience to transform your bathing routine into an indulgent daily ritual.