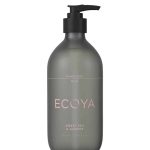 Ecoya | Hand & Body Wash | Sweet Pea & Jasmine
$29.99
or 6 weekly interest-free payments from $4.99 with
what's this?
Description
Ecoya | Hand & Body Wash | Sweet Pea & Jasmine
Perfumer's Notes
Capturing the essence of sweet pea and Australasian white jasmine, uplifting notes of watermelon and cucumber round out a fragrance which is both floral and elegant.
Product Description
The new fragranced Hand & Body Wash is now presented in a grey frosted bottle and made from fully recyclable PET plastic.
ECOYA Bodycare is made using the best botanical bases of Macadamia, Coconut and Almond Oils with rich Vitamin E. This collection is vegan friendly and free from Parabens, Propylene Glycol, Silicone and artificial colours.
Brand
Ecoya
EXPLORE ECOYA Stimulation of the forgotten sense of smell is important to us. ECOYA fragrances transform everyday moments in life, in both home environments and places of work. Explore the world of ECOYA fragrances, select from a fragrance family below (the foundation layer and base upon which a fragrance is built) and discover which of our fragrances best suits your unique taste.